Friday, January 5 - 9:00PM

to

Saturday, January 6 - 8:00AM
St. Matthew Lutheran School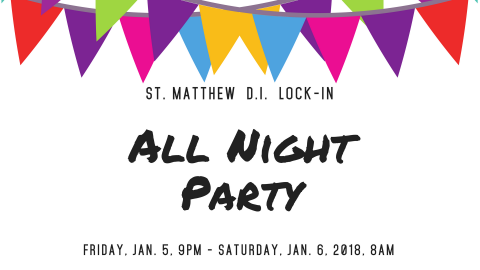 Sign up HERE or at:  http://www.signupgenius.com/go/8050f44afaf2da46-dilock
Attention All 6th-8th Grade Students!  It's an All Night Party planned just for YOU!
The ST. MATTHEW 8TH GRADE DI TEAM is hosting the COOLEST All Night Party in town!
We will be playing:  HUMAN HUNGRY HIPPO & DODGEBALL!  Making CRAFTS and Lots of FOOD!
Who is invited: ALL 6TH-8TH GRADE STUDENTS
What does this event support:  THE ST. MATTHEW 8TH GRADE DI TEAM
When is it: JANUARY 5-6
What time:  DROP OFF 9:00 PM --- PICK UP  JANUARY 6TH @ 8:00AM
Where: ST. MATTHEW LUTHERAN CHURCH AND SCHOOL - 2040 SOUTH COMMERCE RD. WALLED LAKE
Why: ALL PROCEEDS WILL GO TO THE DETROIT CHILDRENS HOSPITAL
Cost:  $10 WITH KIT

OR $20 WITHOUT KIT  (Bring a kit with Crayola or RoseArt crayons, Coloring Book, Foam Stickers, No-latex, non-toxic, character Band-Aids)

Bring:  Necessities for a sleepover, pillow, blanket, sleeping bag!
SIGN UP BEFORE JANUARY 3RD TO BE PART OF THE OFFICIAL VIP LIST!
Sign up HERE or at:  http://www.signupgenius.com/go/8050f44afaf2da46-dilock
Coming Soon:  Emergency Consent Form / Code of Conduct Form