First grade is such an amazing year of growth and maturity!  Students continue to focus upon learning about God's love and protection through Old and New Testament Bible stories.  They also begin to memorize Scripture verses so that faith grows, and they learn that God cares about their everyday lives.  In First grade, the literacy adventure continues as students continue to develop early reading strategies through Reading Workshop time that includes print strategies, text features, questioning, non-fiction reading strategies, and character study.  Students also continue to develop early writing strategies through the Writers Workshop approach that includes conveying thoughts, ideas, and feelings in written form.  Students will learn to write narrative, non-fiction, and opinion pieces such as personal narratives, how to, small moments, and opinion writing. Learning phonics is also incorporated throughout the year to further aid in building a solid reading foundation. 
First grade math concepts include algebraic thinking, understanding place value, comparing numbers, as well as expanding addition and subtraction concepts and strategies by progressing to two digits.  Measurement and geometry concepts are also introduced.  Our inquiry-based Battle Creek Science Curriculum focuses upon observable properties with magnets, shapes and liquids, weather, and animal life.
Ministry News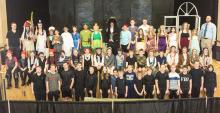 "Let heaven and earth praise Him, the seas and all that move in them!"  Psalm 69:34
Do your children have a certain movie that they enjoy so much that they will tend to watch it over and over and over again?  When my oldest son was a young boy, he was obsessed with Peter Pan, and when given the opportunity to select a movie, that was ALWAYS his choice. 
It just so happened that my sister and her family visited during the Peter Pan extravaganza, and after a few days, my brother-in-law requested if he could borrow our car.  When he returned, he handed Joshua a bag filled with numerous other children's movies, and with a smile said, "Josh, every boy needs to learn that he will one day need to leave Neverland.  Maybe you could start a little early and take a little break from Peter Pan while we're here?"
Perhaps you are all grown up, but this Friday and Saturday, you will have the opportunity to return to Neverland and reunite with Peter Pan and the lost boys as St. Matthew Lutheran School proudly presents Peter Pan Jr.