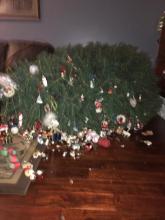 "Therefore everyone who hears these words of mine and puts them into practice is like a wise man who built his house on the rock." Matthew 7:24
Last week, I was greeted by a dear friend who started the conversation with the opening, "So when something happens, I always try to figure out what God is trying to teach me, and here's what happened to me this past weekend." She then pulled up a photo on her phone that portrayed her painful experience. The photo revealed her Christmas tree laying horizontally on the floor with hundreds of shattered pieces of beautiful glass scattered around the fallen tree.
 
The pain from this experience was still so raw that tears immediately returned as she started to explain what had happened:...