Fifth grade students process Biblical themes that explore elements of the Six Chief Parts of Christian Doctrine, and use the same for memorization.  The language arts are centered on summarizing and critiquing stories and informational texts to form ideas, opinions, and feelings in response.  Students write informative, narrative, and opinion papers.  Traditional grammar study is incorporated throughout the year.  Math students engage in numerous applications, such as multiplication and division of whole numbers and fractions, algebra patterns and graphing, converting units of measure, and geometry and volume.  Through the inquiry-based Battle Creek Science Curriculum, students explore forces in motion, continue the study of objects in the sky, and investigate systems and their survival.  Social studies opens with the beginning of the United States, delves into colonization and settlement, and surveys the Revolution and New Nation through the year 1800.
Ministry News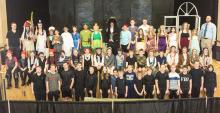 "Let heaven and earth praise Him, the seas and all that move in them!"  Psalm 69:34
Do your children have a certain movie that they enjoy so much that they will tend to watch it over and over and over again?  When my oldest son was a young boy, he was obsessed with Peter Pan, and when given the opportunity to select a movie, that was ALWAYS his choice. 
It just so happened that my sister and her family visited during the Peter Pan extravaganza, and after a few days, my brother-in-law requested if he could borrow our car.  When he returned, he handed Joshua a bag filled with numerous other children's movies, and with a smile said, "Josh, every boy needs to learn that he will one day need to leave Neverland.  Maybe you could start a little early and take a little break from Peter Pan while we're here?"
Perhaps you are all grown up, but this Friday and Saturday, you will have the opportunity to return to Neverland and reunite with Peter Pan and the lost boys as St. Matthew Lutheran School proudly presents Peter Pan Jr.