Fourth graders study the Old and New Testaments to understand God's plan of salvation for all through the life, death, and resurrection of Jesus.  Committing God's Word to memory, as well as the Commandments and the Apostle's Creed, builds the necessary foundation for knowing and accessing His Word in daily life.  In the language arts, units of study develop skills in vocabulary, comprehension, and writing to develop strategies to become proficient writers on a daily basis.  Students learn about narrative, informational, and persuasive techniques as they plan, revise, edit, and share their writing with an audience.  Grammar usage, mechanics, spelling, and language are practiced throughout the year.
Math students employ place value, addition and subtraction up to one million, and multiply and divide by one and two digit numbers.  In addition, factors, multiples, and patterns are studied, as are fractions and decimals, angles, measurements, perimeter, and area.  Scientific studies include energy transfer, states of matter, the sun and moon, and organisms in their environment.  Social studies encompasses the investigation of geography, civics, government, and economics of the United States in an age-appropriate manner.
Ministry News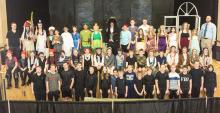 "Let heaven and earth praise Him, the seas and all that move in them!"  Psalm 69:34
Do your children have a certain movie that they enjoy so much that they will tend to watch it over and over and over again?  When my oldest son was a young boy, he was obsessed with Peter Pan, and when given the opportunity to select a movie, that was ALWAYS his choice. 
It just so happened that my sister and her family visited during the Peter Pan extravaganza, and after a few days, my brother-in-law requested if he could borrow our car.  When he returned, he handed Joshua a bag filled with numerous other children's movies, and with a smile said, "Josh, every boy needs to learn that he will one day need to leave Neverland.  Maybe you could start a little early and take a little break from Peter Pan while we're here?"
Perhaps you are all grown up, but this Friday and Saturday, you will have the opportunity to return to Neverland and reunite with Peter Pan and the lost boys as St. Matthew Lutheran School proudly presents Peter Pan Jr.