Seventh graders study Old and New Testament teachings, as well as benefit from weekly Confirmation and Apologetics classes with our Youth Minister John Welte.  Memorization and application of God's Word and many of the Six Chief Parts of Luther's Small Catechism are key to the life of young Christian teens.  Literature students refine critical thinking skills and written compositions, as well as analyze theme, claim, and supporting evidence. Conventional grammar is practiced and applied through papers of length and an in-depth research paper.  Math students are placed in either pre-algebra or algebra, based on teacher recommendations and parent preferences.  Science students study Life, Earth, and Physical sciences with special emphasis on energy resources, weather, and motion.  Geography studies investigate land mass, economic and political factors, and societies of various cultures in the Eastern Hemisphere. Grades six through eight comprise our Upper Grades; these classes benefit from academic departmentalization among our Upper Grade staff.
Ministry News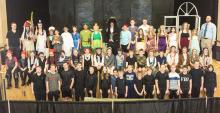 "Let heaven and earth praise Him, the seas and all that move in them!"  Psalm 69:34
Do your children have a certain movie that they enjoy so much that they will tend to watch it over and over and over again?  When my oldest son was a young boy, he was obsessed with Peter Pan, and when given the opportunity to select a movie, that was ALWAYS his choice. 
It just so happened that my sister and her family visited during the Peter Pan extravaganza, and after a few days, my brother-in-law requested if he could borrow our car.  When he returned, he handed Joshua a bag filled with numerous other children's movies, and with a smile said, "Josh, every boy needs to learn that he will one day need to leave Neverland.  Maybe you could start a little early and take a little break from Peter Pan while we're here?"
Perhaps you are all grown up, but this Friday and Saturday, you will have the opportunity to return to Neverland and reunite with Peter Pan and the lost boys as St. Matthew Lutheran School proudly presents Peter Pan Jr.