The beginning of Kindergarten is a very exciting time in a child's life.  Going to school for a full day has many adventurous transitions, and we create a warm environment that will love and guide each of our students through all of these new adjustments.  Spiritually, students grow in their faith through the study of God's Word.  Old and New Testament stories help them learn more about God's faithfulness and everlasting love.  Early literacy skills begin to blossom as sounds and letters emerge into actual words and written text.  In Kindergarten, students will understand fiction and non-fiction texts, character study, use of prior knowledge, understand setting, retell story events, and make predictions.
Using Writers Workshop approach, students learn the beginning formation of letters and progress into the creation of written text.  In math, Kindergarteners learn the importance of patterns, counting, place values, and shapes.  They also learn how to collect and analyze data, compare quantities, begin to estimate numbers, and progress into simple addition and subtraction operations.  Our inquiry-based Battle Creek Science Curriculum focuses on the senses, motion, the earth, and living organisms.  In our social studies instruction, Kindergarteners begin to develop a sense of time, geographic awareness, and a deeper understanding of the world from their own experiences.
Ministry News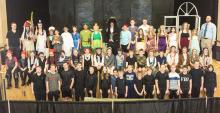 "Let heaven and earth praise Him, the seas and all that move in them!"  Psalm 69:34
Do your children have a certain movie that they enjoy so much that they will tend to watch it over and over and over again?  When my oldest son was a young boy, he was obsessed with Peter Pan, and when given the opportunity to select a movie, that was ALWAYS his choice. 
It just so happened that my sister and her family visited during the Peter Pan extravaganza, and after a few days, my brother-in-law requested if he could borrow our car.  When he returned, he handed Joshua a bag filled with numerous other children's movies, and with a smile said, "Josh, every boy needs to learn that he will one day need to leave Neverland.  Maybe you could start a little early and take a little break from Peter Pan while we're here?"
Perhaps you are all grown up, but this Friday and Saturday, you will have the opportunity to return to Neverland and reunite with Peter Pan and the lost boys as St. Matthew Lutheran School proudly presents Peter Pan Jr.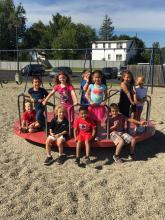 Academic Highlights of How God is at Work in our School- Featuring Kindergarten
A famous quote by Robert Fulghum that states, "All I really need to know I learned In Kindergarten."  When you spend a little time in our Kindergarten classroom, you  quickly realize that there is a lot of wisdom in this quote because there are so many valuable lessons that are occurring at this age!