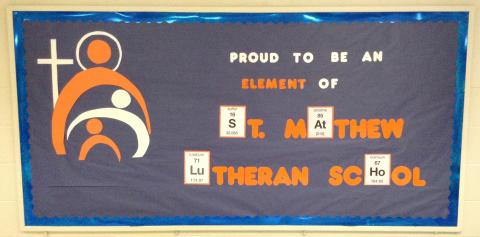 School Registration
Lunch Menu
Currently, we are only offering pizza, fruit, veggie, & bottled water on Wednesday's, and a hot lunch option on Monday's and Friday's every week. Click 
Lunch Menu.December 2022.pdf to view the December Lunch Menu.
Scholastic Book Fair
The St. Matthew Fall Book Fair is starting soon! The book fair will be held in the HUB. Parents, families, and friends, please come to the back HUB doors to enter and shop at the book fair.
In-person dates and times for the fair are as follows:
Monday, November 28: 12:00 pm to 4:00 pm
Tuesday, November 29 - Friday, December 2: 8:00 am to 4:00 pm
Online book fair will run from November 28, 2022 through December 11, 2022 midnight. You can find the online book fair at: https://bookfairs.scholastic.com/bf/stmatthewslutheranschool6
Students, on your first visit to the book fair, come prepared to make a wish list or add to one if you already started creating one at home. This will help your parents decide which books you can purchase. 
Parents, we are accepting checks (made out to St. Matthew Lutheran School), FACTS, and eWallets as payment. Please have your child bring their wishlist on purchase day in the envelope provided. Please make sure to sign back off the wishlist if your child will be paying via FACTS. Please be aware that if your child does not have a signed wishlist when paying via FACTS, we will have to hold their purchases until such time as a parent/guardian can come to the book fair to approve the use of the FACTS account. 
Parents, Families, and Friends, please come to the HUB doors to enter and shop at the book fair.
If you have any questions, please contact Anna Pelepchuk at library@st-matthew.org with questions. Check with your child's teacher for the dates and times his/her class will be attending the book fair.
Spiritwear
2022 - 2023 School Year Key Dates:
2022-2023 Important Documents
St. Matthew Weblinks:
Spiritual Resources: