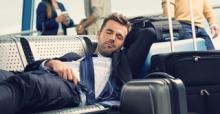 "Be on guard! Be alert! You do not know when that time will come for Jesus' return."   Mark 13:33
Have you ever experienced a time where you fell fast asleep in a very unusual location?
A few weeks ago, I had the opportunity to go to NYC and visit my daughter over Winter Break. One thing is for sure, when you travel to New York, you walk... A LOT! For three days, as we toured the sights of NYC, I blew up my Fitbit steps count and totally took the lead with all of my Fitbit friends!
However, the weather conditions severely changed on the last day of my visit, which put a little damper on my steps and our plans. As the weather conditions worsened, I even decided that I should probably head to the airport a little sooner than I had planned, before the road conditions had the potential for making me late for my flight.