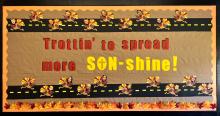 "A new command I give you; Love one another." John 13:34
One news report recently shared: It's been nearly a month since Hurricane Ian changed lives forever, and many people still need to figure out where to live.
In Lee County, the use of mobile homes or travel trailers is being allowed as temporary housing for people repairing their permanent homes. And you don't have to look far to see how many are doing just that.
"It's comfortable. I mean, we're blessed that we have this."