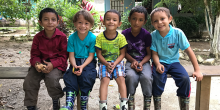 "Whatever you do for the least of these, you've done unto Me!" Matthew 25:40
"Mrs. Palka... Look at my new shoes!"
This is a very popular request among my younger students...  especially when their new shoes have popular cartoon characters on them, or are bedazzled in rhinestones, or the ultimate show stopper... light up with each step!
As a mom, I have also witnessed my own children express great excitement about new shoes.  Convinced that his new shoes had the ability to make him run faster and jump higher, one of my boys even slept with his new shoes during his first night of ownership.
Sadly, there are many children in our world who have not experienced the joy of owning a new pair of shoes. Soles4Souls is a nonprofit organization that is passionate about putting shoes on impoverished children's feet, allowing them to be safe from contracting diseases, while also permitting them to attend school.