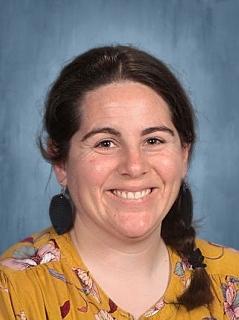 Third Grade Teacher
My name is Samantha Topel, and I am blessed to be the third grade teacher at St. Matthew. I was born and raised in a small, rural town west of Chicago, Illinois, and blessed to be a part of a loving, supportive, and servant-hearted family of 5.  
In 2012, I graduated from Concordia University Chicago with my Bachelor's Degree in Elementary Education. God called me to St. Matthew right after graduation, and I have been here ever since. Even though I am so far away from my family, God has provided me with wonderful friends, an amazing spiritual family, and a blessed marriage to Mr. Topel, the 8th grade homeroom teacher.
Third grade is the beginning of student independence. We learn how to develop our skills as independent learners. Also, we discover Michigan's role in United States' history, study God's marvelous creation through scientific experimentation, and read and write various types of genres independently and as a group. 
I love having the privilege to serve God, St. Matthew, and the third grade class, as the students continue to grow and discover the endless blessings He has given them! One very special mission God has given our third graders is to partner with the International Ministry's Beginning English class. Each year, we have the opportunity to share one of our favorite Halloween traditions with our buddies—carving pumpkins. Also, we celebrate Christmas and Easter together, giving the children a chance to spread God's love, and be God's shining light, to men and women who do not know Jesus. What an amazing way to develop vibrant, missional Christ-followers!
If you are interested in learning more about third grade, please feel free to contact me. I'd love to answer any questions you may have about St. Matthew and/or third grade.