Sunday, April 23 -

7:00PM

to

9:00PM
St. Matthew Lutheran School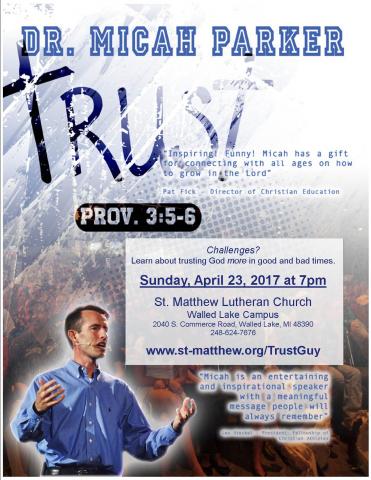 Challenges?  Learn about trusting God more in good and bad times
Dr. Parker will be talking about understanding the difference between praise trust and adversity trust. He will provide practical ways to overcome adversity with Christ. You will never look at the word "trust" the same again! Be prepared to push beyond your spiritual comfort zone and TRUST! Based on Proverbs 3:5-6, Psalm 23, Romans 8:28 and 1 Peter 5:7. All ages are welcome!
About Dr. Parker:
"God blessed me with an unexpected and incredible adversity that helped shape my original message. My personal testimony is about how to truly trust Jesus Christ with your entire life, regardless of the circumstances. After taping a chapel service I did at Concordia University in Nebraska about my experience, I mailed the tape to friends and family who were praying for me. Those tapes were taken to church or given to friends who were also dealing with an adversity.  People heard the tape and asked me to come tell more of the story.  Then people would  ask me to come back and speak, but I'd respond with, "You heard my story; that's all I've got."  As a result, I developed many more talks. That was 10 years ago. Since then, I've been blessed to speak in 19 different states and to countless groups, ranging from ONE to over 25,000 at a time. I've spoken in a cow pasture, at a prison, and in huge arenas - each has been a blessing!"
The Mission of Dr. Parker and Trust Guy Ministries
1) To share how God can use an ordinary man to get through extraordinary circumstances.
2) To motivate others with humor and Biblical truth towards action in their relationship with Jesus Christ.
3) To equip Christians of all ages to glorify God despite the challenges of this world.
What are people saying about Micah Parker?
"Micah has a gift for sharing the lessons God has taught him in a creative, funny & meaningful way. He's dynamic, can connect with youth and adults and has them rolling in their seats, yet pondering deep spiritual truths."
- Jeremy Becker, Minister to Senior Youth, Concordia - Kirkwood MO
  
"It's hard to find a Christian speaker who can weave personal stories and Scripture in a way that connects to all ages and even harder to find someone who does it well. He is as good as it gets! Nobody makes me laugh harder while keeping Christ at the center than Micah. You will not be disappointed!"
- Leon Jameson, DCE, 2007 National Youth Gathering Mass Event Leader
 
"Blending wit and wisdom with conviction and Biblical doctrine, Dr. Parker changes the lives of those who hear him."
- Pastor Bill Yonker, Immanuel Lutheran - East Dundee, Ill
 
"Micah Parker was simply awesome!  His testimony and stories were not only captivating, they made it easy to have deep discussions with our youth. A gifted speaker and someone for our youth to look up to for direction and encouragement.  I highly recommend Micah as a speaker for any age"
- Brian Amey, DCE and Kansas Youth Gathering Director, Wichita KS