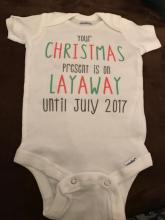 "Every good and perfect gift is from above, coming down from the Father of heavenly lights, who does not change like shifting shadows." James 1:17
As a parent, you just have that keen sense of awareness when things just don't add up regarding your children's behavior... like the time my four year old brought me into our living room to show me that someone had written JOHS in very distinct Preschool handwriting on the wall. With the sweetest angelic face, he told me that his seven-year-old brother, Josh, must have done it, and I should punish him. He looked absolutely stunned as I told him that I didn't think he was telling me the whole truth.
 
In a similar fashion, my daughter-in-law sent us a text early in December stating that she and my son wanted to invite her parents and us over for dinner the weekend before Christmas. Knowing how busy they are, it just seemed a little suspicious to have both families over for dinner, but we were happy to accept the invitation.  A few days later, my son helped me with a technical task, so as a small token of my gratitude, I took both him and his wife out for lunch.  Again, my suspicion was heightened as I watched my petite daughter-in-law order an omelet, French toast, sausage, hash browns, toast, and an English muffin, plus finish half of my son's French fries.  However, this time, I kept my suspensions quiet, for fear of being wrong and disappointed.
 
When we arrived for dinner a few weeks later, I was so impressed with the gorgeous decorations and assortment of appetizers that my son and daughter-in-law had prepared.  After a lovely time of conversation and catching up with each other's families, Courtney announced, "Before we eat dinner, you guys have to open your Christmas gifts but you have to open them at the same time."  By then, my suspicions were running rapid, but I was trying my best to keep them under control for fear she just bought us matching salad spinners or waffle irons?  It felt as if my heart was pounding out of my chest as both of us moms unwrapped beautiful packages, and instantly, there were screams of joy when the contents reveal this:
 
And when all of the hysteria finally calmed down, the dreaded words were spoken, "Now you have to keep this quiet because we want to wait before we tell people."
AHHHHHHHHHHHHH!
 
For a woman who has been waiting and highly anticipating the arrival of her first grandchild, this was TORTURE!  I was ready to scream this amazing news from the mountaintops and yet I needed to respect their wishes and keep quiet.  At first, I was so fearful I would spill the beans, so I had to control myself when people casually asked, "What's new?"  I felt like I would anxiously reply, "New?  Nothing is new!  Why do you ask because if you're asking me anything about Josh and Courtney and a baby, I can't tell you!"  (I'm just kidding!  I wasn't that bad!)
 
However, now that they have officially told their family, friends, and employers, I have the extreme joy of sharing this good news with my St. Matthew family.  Every time that I think about this little one's arrival and joining our family, my heart could just burst with love, excitement, and gratitude to God.
 
As Christians, we were just anticipating and celebrating the joyous birth of our Savior, Jesus.  However, I have to occasionally do a self check to make sure that same Christmas joy and excitement is still present today in my life and actions.  Now that the Christmas decorations are packed up and put away,  I need to make sure that I don't  let other things of this life push that joy and excitement aside.   And just as I am excited to tell others about Baby Palka, I want to be even more passionate to tell others about Baby Jesus!
 
So as we enter into the chilly month of February, may the joy of Christmas continue to warm our hearts and motivate us to "Do Something" significant for Jesus.
 
In His love,
Mrs. Palka