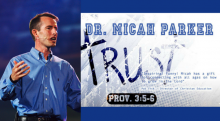 "One for the money, two for the show, three to get ready, and four to go!"
For years, this was the motivating cheer that my husband would use to encourage my young children to jump into his arms as he waited for them in the deep end of the swimming pool.  But what causes little ones to ignore the depth of the water and still leap into the air as well as their father's waiting arms?
The answer is... trust!
Children will jump into their parents' arms because they trust that they will catch them.
So how do we develop that same sense of trust with our Heavenly Father throughout the various circumstances that occur in our lives?
Come spend an evening this Sunday night with Dr. Micah Parker as he shares some practical biblical insights regarding how to develop praise trust as well as adversity trust.
Dr. Parker is one of the most powerful speakers that I have been blessed to hear, and I am absolutely thrilled that he is coming to share his message with our St. Matthew family this Sunday, April 23rd, at 7 p.m. 
I hope that you will be able to join us!  You will never look at the word trust in the same way after this message!
In Jesus' love,
Mrs. Palka
What people are saying about Dr. Micah Parker:
"Micah has a gift for sharing the lessons God has taught him in a creative, funny, & meaningful way. He's dynamic, can connect with youth and adults and has them rolling in their seats, yet pondering deep spiritual truths."
                            Jeremy Becker, Minister to Senior Youth, Concordia, Kirkwood, MO                                      
"It's hard to find a Christian speaker who can weave personal stories and Scripture in a way that connects to all ages and even harder to find someone who does it well. He is as good as it gets! Nobody makes me laugh harder while keeping Christ at the center than Micah. You will not be disappointed!"
                             Leon Jameson, DCE, 2007 National Youth Gathering Mass Event Leader
 
"Blending wit and wisdom with conviction and Biblical doctrine, Dr. Parker changes the lives of those who hear him."
          Pastor Bill Yonker, Immanuel Lutheran - East Dundee, Ill
 
"Micah Parker was simply awesome!  His testimony and stories were not only captivating, they made it easy to have deep discussions with our youth. A gifted speaker and someone for
our youth to look up to for direction and encouragement.  I highly recommend Micah as a speaker for any age"
                         Brian Amey, DCE and Kansas Youth Gathering Director, Wichita KS