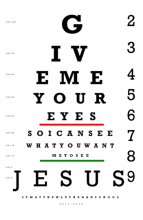 WELCOME BACK!
If you have ever needed corrective lenses before, you know that experience of putting your new glasses on for the first time and being totally amazed at the clarity and preciseness of your vision! I was in third grade and still remember to this day walking out of the eye doctor's office wearing my new glasses, being in awe of my new and improved sight, and the ability to see things like street signs and birds flying through the sky with such clearness! It occurred to me that I had become so accustomed to my poor vision that I didn't realize everything that I was missing!
We are very excited for the 2017/2018 school year, especially when we are basing it on the phrase from Brandon Heath's song, "Give Me Your Eyes". Through this motto, we are asking the Lord to help us see situations and circumstances through His eyes and respond in ways that are pleasing to Him.  It is our prayer that the Lord will "give us His eyes" and use our students this year to do many wonderful things that will assist in furthering His kingdom!
We are looking forward to "seeing" all that the Lord has planned for us this school year!
In Jesus' love,
Mrs. Palka and the Staff of St. Matthew Lutheran School