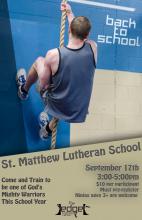 If someone would ask you "What is one of your favorite television shows?", how would you reply?  For me, one show that I find fascinating to watch is "American Ninja Warrior"!
 
This action-packed series follows extremely intense competitors as they tackle a sequence of tremendously challenging obstacle courses.  Preliminary contests are held in six different cities around the United States and the top qualifiers from each city progress to the National Finals, which are currently being held in Las Vegas.  During the National Finals, these amazing top competitors will face a grueling and incredibly demanding four-stage course. The winner will receive the title as the most elite American Ninja Warrior and take home a grand prize of $1 million dollars!
 
The strength and endurance that each of these contestants possesses is absolutely amazing!  However, there is one contestant, known as "The Papal Ninja" that is capturing a lot of attention not only because of his skills but his public profession of his faith.
 
During a recent interview, 31-year-old Sean Bryan professed that he is an active member of his Catholic Church, who enjoys using his gifts and talents to help further the ministry of his church.  His parish even allowed for him to turn one of their garages into an American Ninja Warrior training facility!  During his featured interviews, Bryan frequently shares his faith in God and when he finished the first course on Monday night, he did a back-flip and then gave God the glory.  When interviewed after his run, he stated, "I realized, WOW, this really did just happen!  I pointed to Heaven thinking to myself, "Thank You!"
Sean Bryan is a wonderful example of not just being an American Ninja Warrior, but more importantly, being one of God's mighty warriors.
 
At St. Matthew Lutheran School, it is our prayer that through daily instruction and religious training, your child will be equipped to share his/her faith and become one of God's mighty warriors in this hurting world.
 
As we begin this new school year and "training season" of your child's spiritual journey, we want to celebrate the joy of being on
this adventure together during our "Back to School" event at "The Edge Training Center".
Details for this event is as follows:
 
When:  Sunday, September 17, 2017
Time:   Due to the size of the gym, we will need to put families into one hour sessions.  Sessions will be held from 3:00 - 3:50 p.m. or 4:00 - 4:50 p.m.  We will do our best to place your preferred session.
Where:  The Edge Training Center
              3285 Martin Rd #101, Commerce Charter Twp, MI 48390
Cost:    $10 per person
Sign up:  Please follow the instructions below.
 
1. Create an online account through American Allstars. Initial account holder must be over 18. Minors will be added as "students".
https://app.thestudiodirector.com/stargymnastcommerce/portal.sd?page=Reg...
2. Participants (students) will then choose to enroll in a class.
3. Our school event (class) is listed under Edge Ninja Extras and will show on Sunday September 17th. Please select one time slot, either 3:00 - 4:00 p.m. or 4:00 - 5:00pm.
4. Enrollment will be complete when you checkout. Payment of $10 per participant can be paid via credit card at that time.
If you already have an online account with American Allstars, you can register under that account.
If you need any assistance, the staff at the Edge is more than happy to help you with this process or any questions. You may contact them at (248)877-1525.