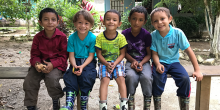 "Whatever you do for the least of these, you've done unto Me!" Matthew 25:40
"Mrs. Palka... Look at my new shoes!"
This is a very popular request among my younger students...  especially when their new shoes have popular cartoon characters on them, or are bedazzled in rhinestones, or the ultimate show stopper... light up with each step!
As a mom, I have also witnessed my own children express great excitement about new shoes.  Convinced that his new shoes had the ability to make him run faster and jump higher, one of my boys even slept with his new shoes during his first night of ownership.
Sadly, there are many children in our world who have not experienced the joy of owning a new pair of shoes. Soles4Souls is a nonprofit organization that is passionate about putting shoes on impoverished children's feet, allowing them to be safe from contracting diseases, while also permitting them to attend school.
Locating people who are in need, Soles4Souls recruits passionate volunteers who strategically implement a process to help others obtain shoes. This process begins by washing and sizing each person's feet, and then selecting a pair of shoes that will safely protect their feet from the elements of their environment.  When flood waters from recent hurricanes saturated many areas, Soles4Souls distributed thousands of rain boots, allowing children to safely walk through flood waters without  concern of contracting illness or injury.  This Friday is our annual St. Matthew Turkey Trot, and it 
is with great excitement that we look forward to helping the NOAH Project,  a homeless shelter in Detroit, as well as Soles4Souls.
Each student has received a "Turkey Trot Pledge Sheet" that allows for him/her to collect donations.   Every dollar that is raised will help to either feed someone who has no food, or purchase a pair of shoes for someone in need.  Students are asked to bring their pledges to school this Friday so that we can total up the grand total for our school.  Any student that raises $50 or more will receive a free T-shirt with this year's Turkey Trot logo.
But wait... there's MORE!  In attempts to help motivate the student body of St. Matthew, our Student Council has developed a concept entitled  "EAT PASTA... RUN FASTA!" 
As a result, the students that run the most laps or raise the most money will have an opportunity to dump cooked noodles on the head of the Student Council Representative of their choice next Monday afternoon during a school assembly. So let's work together to help The NOAH Project and Soles4Souls stamp out poverty as we ask the Lord to "Give Us His Eyes" and help those who are in need!
We look forward to watching the Lord bless our efforts to help others step closer to Jesus!
In His love,
Mrs. Palka