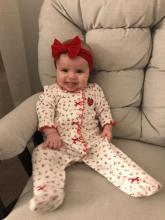 "Every good and perfect gift is from above, coming down from the Father of heavenly lights."  James 1:19
If I were to ask you what was one of your favorite Christmas gifts, how would you answer?  Maybe it was your first bike, or a favorite doll, or the classic Red Ryder BB gun?
 
Looking back, I have received so many wonderful presents, but last year, I was given an extremely special gift when I unwrapped this one from my son and daughter- in -law: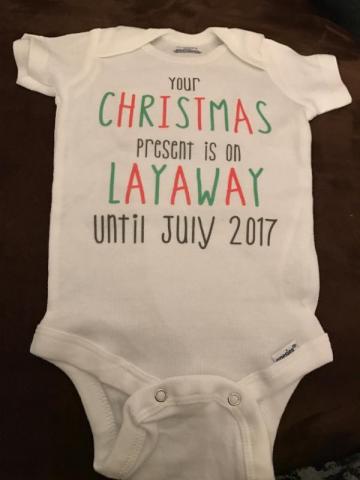 After years of being a "grandma wannabe", I was over the moon when I saw this!  And as Josh and Courtney spent the next eight months preparing to become parents, I was having the time of my life anticipating becoming a grandma!
As the due date closer, my social calendar came to a screeching halt because I was going to ensure that I was not going to miss this little girl's grand entrance into the world.  I turned down conferences, vacations, and family reunions, etc., because I wanted to make sure I was available.  And  every time I would make dinner plans with someone, it was always prefaced with, "Unless we're having a baby - then I won't be able to make it."
Finally, on the morning of July 13th, as I was getting ready for work, I received the long awaited phone call!  As soon as I answered the phone, my son responded with "OK... don't freak out and don't tell anyone because we're not sure, but I'm on my way home from work because Courtney thinks she's in labor."   Not wanting to beat the couple to the hospital, I waited until I knew that they were going to admit Courtney before I screamed this news from the mountaintops and then proceeded to join the other extremely excited future grandparents and relatives at Mott Children's Hospital.
After nineteen hours of labor, the doctors determined that a C-section was necessary and we were moved into a different surgical waiting room around 2:45 a.m.  Having the only phone that was still charged, our group huddled  in prayer and waited for photos to arrive through texts.   Our hearts jumped at the sound of the arrival of the first photo, showing a baby monitor displaying the weight of 7lbs 12oz.  A few minutes later, we received the next photo of a proud new daddy holding his beautiful little girl... and there wasn't a dry eye in the room.  About thirty minutes later, my phone rang and Josh asked, "Do you want to come back and meet your new granddaughter?"
Words will never be able to adequately express the joy that we all felt that first time that we saw her and held her.  What a precious gift God gave us to allow us to be there as one of the first to welcome her into the world.
After being at this birth, I can't imagine the joy the shepherds experienced being the first visitors at the manger.  Scripture reveals that it must have been an amazing experience because it states in Luke:
"The shepherds returned, glorifying and praising God for all the things they had heard and seen, which were just as they had been told." (Luke 2:20)
Just as the excitement of Emilia's birth continues in my life, I need to make sure that same Christmas joy always remains predominant in my life as well.  And just as I am excited tell others about Emilia, I want to be even more passionate to tell others about Jesus!
It is our prayer that the joy of Jesus fills your hearts this Advent season as we prepare to celebrate the greatest birth of all!
In His love,
Mrs. Palka