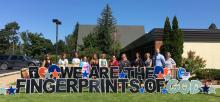 "For we are God's handiwork, created in Christ Jesus to do good work, which God prepare in advance for us to do." Ephesians 2:10
For those of us who work at St. Matthew over the summer, everyone tends to comment that the building is way too quiet! However, this building immediately becomes alive again as soon as all of the students return; you can just feel the excitement resonate throughout the hallways!
In addition, we are so excited about this year's theme, "We Are the Fingerprints of God". Each year, our sixth grade class has the responsibility to select the theme and an associated song for the upcoming school year, as well as design a logo that helps serve as a memorable visual for this theme. This year's theme is supported by the song of the same title and performed by the Christian artist Dan Brehem. The message of this song is that not only will we find God's fingerprints all over everything in our lives, but we can also be His fingerprints by sharing His love with others.
We look forward to a fantastic year filled with opportunities to notice and share God's fingerprints with others!
In His Love,
Mrs. Palka