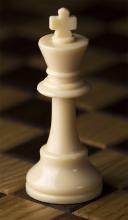 "For God so loved the world, that He gave His One and Only Son, that whoever believes in Him shall not perish, but has eternal life." John 3:1 
Would you consider yourself proficient at the game of chess? My children have always been fascinated with this game, but I have to admit that they did not acquire their skills or understanding of chess from me! So it was really helpful when a friend of ours, who is a pastor, shared his chess story with us!
He began by telling us about a visit he had just experienced with one of his homebound parishioners. He stated that this particular gentleman was known to be an extremely talented chess master, so our friend challenged him to a friendly match during his visit. Our friend stated that he was getting kind of excited because he actually thought that he was doing well and possibly winning. However, that joy quickly diminished when the elderly man captured our friend's king. Politely, our friend explained to us, "And if you don't understand the rules of chess… if you lose the king, you lose everything!"
Our friend then proceeded, "It just got me thinking what a great analogy! If you lose the king, Jesus, you truly do lose it all!" You can be doing all sorts of things in this world, like moving pawns and queens, and thinking you're doing extremely well in your career, volunteerism, or finances, but if you lose the King, it's all meaningless!
At St. Matthew Lutheran School, it is our top priority that your child has a close relationship with the King. This school year, we want to partner with you to nurture and enhance your child's faith journey so that he/she knows the Lord and calls upon Him daily.
As our friend was concluding his conversation, he finished by stating, "But you know the one difference? In the game of chess, you do everything you can to protect the king. However, as Christians, we don't protect the King…the King protects us!
As we begin this 2023/2024 school year, we rejoice in knowing that the King is always watching over and protecting us. We are so grateful that your family is experiencing this journey with us!
In His Love,
Mrs. Palka