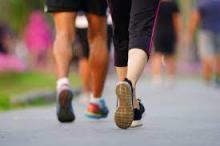 "Trust in the Lord with all your heart and lean not on your own understanding; in all your ways submit to Him, and He will make your paths straight." Proverbs 3:5-6
Last week, as I was greeting students at the doors wearing my new knee brace, one of our sweet grandpas quietly inquired, "So I take it you won't be competing on this season's "Dancing With The Stars?" After a good laugh and confirmation that his hypothesis was indeed correct, he then inquired, "So what happened?" 
And thus, my story began….
One thing that has been on my bucket list for many years is to join the World Vision Team to walk a half marathon for children who are in need of clean water. After turning 61 this summer, I had the profound thought, "What am I waiting for?"
  After sharing this idea with my husband, he quickly responded, "I'll do that with you!" As a result, we reached out to Mr. Thomas Czinder, one of the St. Matthew World Vision Co-Captains, for more information. After a very passionate conversation, we both enthusiastically joined Team World Vision with hopes of walking during the Detroit Free Press Marathon, which will occur on October 15th. When we signed up, it was our prayer that God would bless our efforts and use us to help transform the lives of some of the world's poorest children and families.
We started training on July 6th, and each week, we would add a little more distance, utilizing the new Walled Lake bike path as our trail and the M5 bridge as our pretend Ambassador Bridge. For months, things were going well, until one evening a few weeks ago, something just didn't feel right in my knee. Days later, the intensifying pain led to a doctor appointment and the diagnosis of a torn meniscus.  
A cortisone shot and knee brace have brought some much appreciated relief, along with the doctor's blessings of "If the pain diminishes, you could still try to walk that half marathon." So now, I'm back walking short distances again, in hopes that my knee will significantly improve within the next four weeks! If things don't go according to my plans, I will be incredibly disappointed, but my daughter is willing to jump in to serve as tribute and walk for me.
So how to you handle unexpected disappointments? 
First, you turn to God and trust Him. Scripture states in Proverbs 3:5 & 6, "Trust in the Lord with all your heart and lean not on your own understanding; in all your ways submit to Him, and He will make your paths straight." There are things in this world that we won't understand, but we do know that God is in control and watching over us. He sees things we cannot see, and His ways are always better than what we think is best.
In addition, pray and ask God to help you help you persevere through challenges. 
One of our greatest and most powerful tools is the gift of prayer! God never intended for us to carry any of our burdens on our own. He wants us to turn to Him and depend on Him for help. Scripture tells us in 1 Peter 5:7 to "Cast your burdens unto Him for He cares for you." 
Lastly, do not become discouraged when things do not turn out the way that you hoped because God is always at work, and somehow, good will result. It would be so easy to become discouraged and miss seeing the small blessings in life. Scripture tells us in 1 Thessalonians 5: 16 - 18 to "Rejoice always, pray continually, and give thanks in all circumstances for this is the will of God in Christ Jesus for you."
As I limped into sixth grade religion one morning, I had a student express to me, "Satan wants to discourage you. Don't let him win!" It definitely was a moment when the roles reversed and the student became the teacher.
So have a wonderful week knowing that God is at work watching over you. He has great plans for you and He will always be there to love and help you through life's disappointments.  
In Jesus,
Mrs. Palka