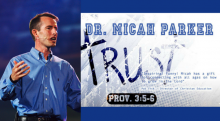 "One for the money, two for the show, three to get ready, and four to go!"
For years, this was the motivating cheer that my husband would use to encourage my young children to jump into his arms as he waited for them in the deep end of the swimming pool.  But what causes little ones to ignore the depth of the water and still leap into the air as well as their father's waiting arms?
The answer is... trust!
Children will jump into their parents' arms because they trust that they will catch them.