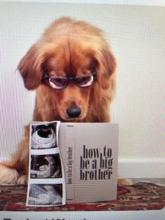 "Every good and perfect gift is from Heaven above."  James 1:7
It is with great joy that our second grade teacher, Mrs. Alicia Brown, would like to announce that the Lord is blessing her and her husband, Ryan,  with... A BABY!
We are so incredibly happy for Mr. and Mrs. Brown (and dog, Bo!) and share in their excitement!  This baby is such an incredible gift, and we so look forward to his/her arrival into our St. Matthew family!